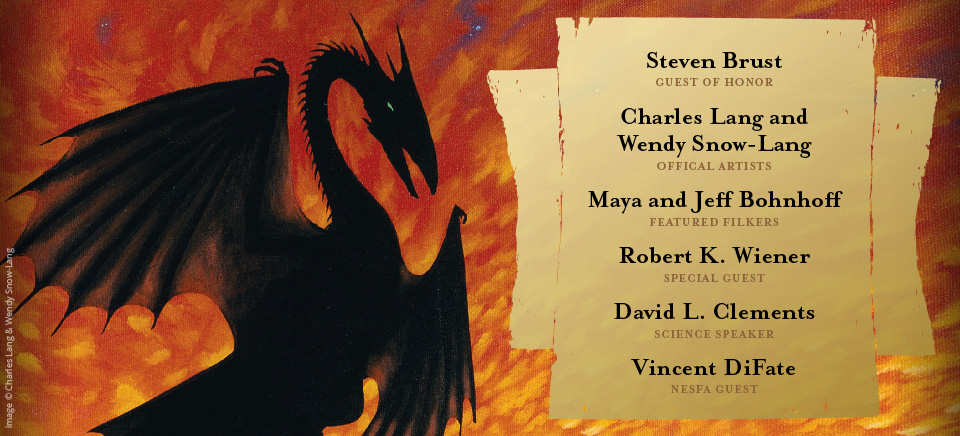 Guests
Steven Brust, Guest of Honor
Charles Lang and Wendy Snow-Lang, Official Artists
Maya and Jeff Bohnhoff, Featured Filkers
Robert K. Wiener, Special Guest
David L. Clements, Science Speaker
Vincent Di Fate, NESFA Guest
Do you love science fiction and fantasy? Join us at Boskone, the longest-running science fiction convention in New England!
Meet an impressive array of well-known figures in the field—including writers, artists, editors, publishers, musicians, scientists, gamers, bloggers, conrunners, reenactors, and fanzine editors.
Join more than 1000 fans and pros for a weekend filled with fannish things to do—panels, readings, kids activities, demonstrations, small-group discussions, filksinging, videos, games and more!
Our innovative no-boundaries layout is a safe space designed to stimulate conversation and to support a warm, family-friendly, fannish community.
Friday free hours
Programming begins at 2:00 pm on Friday, February 13th and is free to the public from 2:00-6:00 pm. Memberships are required after 6:00 pm on Friday and throughout the duration of the convention.
---
Please read Boskone's Code of Conduct.
Visit the Boskone 51 website to see what Boskone is like, check out the Boskone Blog, read some of the LiveJournal review, or view the Flickr slide show of past Boskones. Follow us online—We'll be Tweeting from Boskone (hashtag #boskone).
Boskone is brought to you by the New England Science Fiction Association. NESFA® has frequent meetings and maintains a clubhouse and library in Somerville. Stop by the NESFA Web site for more information—visitors encouraged!
For more information on NESFA and Boskone:
| | | | |
| --- | --- | --- | --- |
| E-mail us: | info@boskone.org | Write us: | Boskone 52 |
| Phone us: | 617-625-2311 | | PO Box 809 |
| Fax us: | 617-776-3243 | | Framingham, MA 01701 |